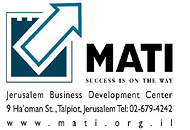 "Spotlight on Business", the Jerusalem Conference on Getting Started in Business, takes place this Thursday at the Menachem Begin Heritage Center Auditorium, 6 Nahon Street, Jerusalem. The participation fee is a very reasonable NIS 35 (just the cost of a couple of cups of coffee).
The programme targets anyone who is thinking about starting a business or becoming self-employed, or who is already in a business that needs a boost.
Have a business but your business needs a boost?
For information and registration, contact MATI by phone  1-800-23-20-23 or email amit@mati.org.il
For online registration and payment visit www.mati.org.il
Events of this nature are tremendously helpful, not just in terms of getting useful information from people with the right background and experience, but also in terms of being able to meet like-minded businessmen and women who are facing the same challenges and who can all learn from one another.