Take advantage of Jerusalem Business Center's elegantly furnished and equipped meeting rooms with a beautiful view of Jerusalem.
Benefit from meeting in a professional office environment, with full office equipment and secretaries available to help ensure your meeting runs smoothly.
The three meeting rooms sit 10 to 14 people each.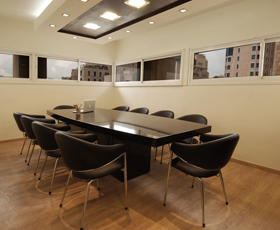 Hot and cold drinks will be served throughout the meeting. Extra catering is available at an additional cost.
Additional rooms are available if your meeting needs to separate into smaller groups.
The meeting room is available to the general public as well as to existing clients.
Contact us now to book the meeting room.