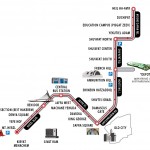 "Like many major cities, downtown Jerusalem has seen its urban decay and flight to the suburbs. The main Jaffa Road was ripped up to lay a light rail that has been years over due and it's been a struggle for business to survive. But things are starting to turn around with the help of a modern cultural renaissance".
So begins a thoroughly upbeat appraisal of life in Jaffa Road now that the builders have finally departed and the long-awaited light railway has been completed. The area — once a decayed and miserable area, choked with emissions from buses and commercial vehicles and with pedestrians fighting for space on broken, uneven pavements — has now been reborn as a shopping, dining, culture and leisure space.
The railway line, which goes through Jaffa Street and past the Old City on its way from South to North Jerusalem, is expected to be open for passengers next month.
The Jerusalem Business Center welcomes this renaissance, which makes the capital an increasingly pleasant environment for businessmen as well as residents.
Source: "Open air market at heart of Jerusalem's revival" by Arieh O'Sullivan, Jerusalem Post, 13 July 2011