As you compare office space options in Jerusalem, one type of consideration is whether to choose a leased space or a serviced space. Each type of office presents different pros and cons. Your business's specific needs will be the major deciding factor if a leased office or serviced office will offer the highest return on investment.
Leased Offices in Jerusalem
Leasing an office space is the traditional way to secure a location for your operations. Leasing an office will involve contacting a commercial building owner and agreeing on a fixed set of lease terms. Lease rates are typically calculated by square footage of an office area. The lessor will dictate the length of the agreement to the lessee, which may be anywhere from three to ten years. In return, the lessee is given total control over and responsibility for the space. The business owner leasing the office is in charged with furnishing the space, maintaining the area and hiring any support staff needed such as receptionists and custodians.
A leased office in Jerusalem is beneficial to companies who have an established brand. The company should have plans to remain in the Jerusalem area for the entirety of the lease terms. The business should also have a good amount of startup capital available to them since they are required to furnish and decorate the space. Additionally, leased offices are a solid choice for those who want total control over their brands. Leased office space in Jerusalem will fall in the range of 600 to 1000 NIS monthly per person. For lower cost office options, the space may be compact and only include approximately 15 sqm of work area. Larger offices for multiple staff members will cost on the higher end and accommodate multiple staff members with upwards of 70 sqm of space. Larger companies with more than 10 employees are typically best suited for leased office agreements.
Serviced Offices in Jerusalem
A serviced office by contrast offers more flexibility and support for businesses. Instead of renting from a commercial landlord, a serviced office is rented through an office management firm. The office management firm acts as a professional liaison to not only secure an office space for you, but also handle all furnishings, maintenance and housekeeping. Support staff can be included as part of a serviced office agreement along with other amenities such as beverage service and Internet access. Having a serviced office doesn't mean you are limited access to the space. Many serviced offices in Jerusalem include 24/7 building access and 24-hour building security.
A key benefit of serviced offices is you are ready for business from day one. You don't have to expend the time preparing the space to handle day-to-day operations. Less money is needed upfront, as the office can be rented on a month-to-month, and you will be paying a single price for a multitude of services. Since the agreement is handled through an office management firm, there is more flexibility too. Serviced office agreements in Jerusalem may only require monthly contract terms, and can vary in size and details to reflect the dynamic needs of a growing business.
Serviced offices in Jerusalem offer a number of benefits. For one, the number of serviced office spaces available has grown tremendously over the last several years. With the construction of new high tech business centers near Tel Aviv, the area has experienced tremendous growth. Reserving serviced office space now gives you the key benefit of getting your spot before prices surge due to demand. Serviced offices will cost an average of 1500 to 2000 NIS per person monthly when renting space in Jerusalem. Budget-friendly serviced offices are available for less if your business needs less support staff and space. Serviced spaces can include shared offices within a Jerusalem high-rise or even reserving multiple floors of an office building. Serviced offices are ideal for lawyers, accountants and other businesses with minimal staff. They also appeal to foreign companies who are not familiar with the rigours and idiosyncrasies involved in establishing and maintaining office space in Jerusalem.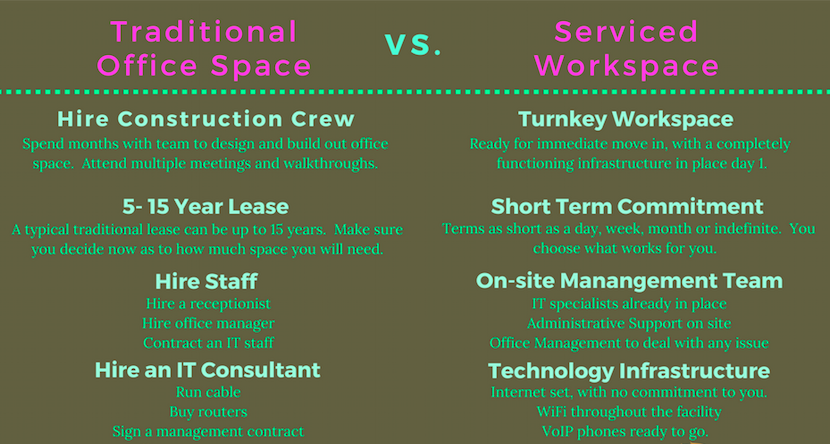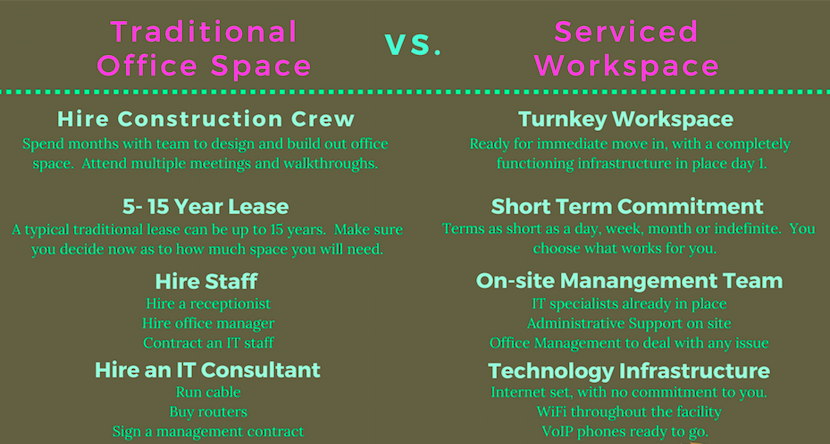 Cost Considerations
As far as costs, those who reserve leased offices need to consider the prices they will pay a la carte. Before you lease, review all of the out of pocket expenses not included in your lease agreement that will come standard with many serviced offices. For instance, to hire a security guard for an office, the cost can be approximately 700 NIS daily with a monthly salary of 8,750 NIS or more [this should be replaced with cleaning/internet/arnona and vaad bayit costs]. A receptionist's salary falls into the range of 400 NIS per day with a monthly rate of 7,900 NIS and higher. The following chart demonstrates what you could expect to pay monthly on average for all services purchased separately for a leased office. The monthly cost is significantly more than the monthly lease rate of serviced offices with these inclusions. In addition, the flexible office rental arrangements provided by serviced offices means that a business is not bound to commit to longer-term contracts for such costs as would normally be required.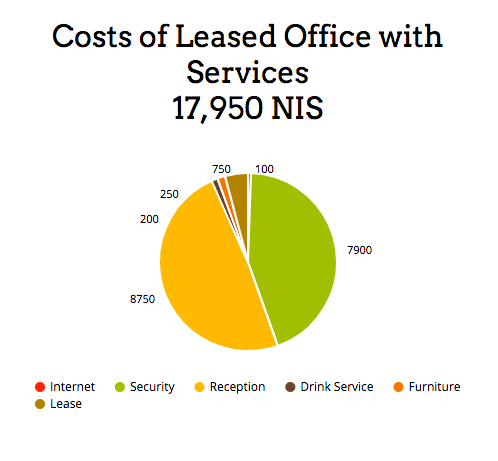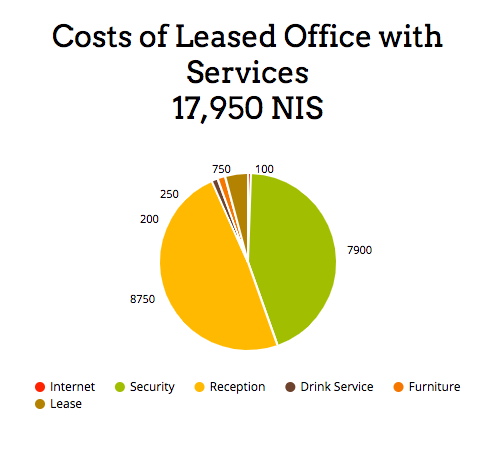 Jerusalem is a thriving metropolis and will give you convenient access to nearby public transportation, restaurants, government buildings and more. Whether you decide on a serviced office or leased office, choosing Jerusalem as your headquarters makes the most financial sense.