Our Jerusalem offices boasts the following features. For
rental plans
, you can find what features are included as additional elements to our offices or included as part of the package. We rent our Jerusalem offices for
short-term
or
long-term
 commitments.
Private Office
Your office is accessible 24/7 with your own key. Your office is one of our single or double offices gives you that true private office experience.
Multi-Lingual Secretarial Assistance
Our multi-lingual secretarial staff will be on hand for your administrative needs including answering your private line, typing, photocopying, scanning and faxing. They have ample experience with our European, North American and Israeli Clientele.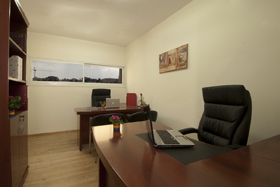 Central Location
On Rechov Hillel in the center of Jerusalem, within walking distance of law courts and government offices.
 State-of-The-Art Fitted Office
All the requirements of a modern office have been set up and will be maintained so you don't need to install or maintain them. These include refined office furniture, high speed internet connection, and air-conditioning with individual settings for your office.
Office Equipment
Walk in with only your laptop in hand and we will ensure that all your needs are catered for, providing you with access to high-speed scanner, photocopier, printer and fax machines.
Parking
Parking spaces available for rent in the building's car park. Several other car parks within 5 minute walk.
No More Bills
Avoid having to set up several payment systems for all your office needs. Your single payment to us includes Arnona, Va'ad Bayit and utility bills. We will take care of the phone bill on your behalf and you will be charged according to your use.
IT Support
We provide breakdown support for internet and phones. We can also call out a technician on your behalf for your own computer.
Meeting Room
Impress your clients with our elegantly furnished
meeting room
, which can sit 10 to 12 people. If your clients, staff or team members are in another city or country, take advantage of our
video conferencing
services.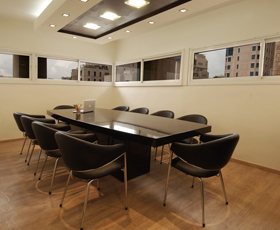 Cleaners
We clean all public and private areas, as well as cups and crockery.
Air Conditioner
We know you want to start working comfortably as soon as you walk into the office. Call us on your way in and we will turn on the air conditioner in your office before you come in.
Kitchen
Hot and cold drinks available 24/7. A large refrigerator is also available for your personal items, as well as a microwave and eating area. Additional snacks and drinks are available for purchase.

There are also a number of several restaurants and cafes in the immediate vicinity.
PLEASE CONTACT US FOR FURTHER INFORMATION ABOUT OUR OFFICE SOLUTIONS. OPTIONS RANGE FROM BASIC OFFICE SPACE TO ALL INCLUSIVE PACKAGES.